Protecting nature and not wasting natural resources: a strong and clear message from the National Youth Day 2023 in Bangladesh.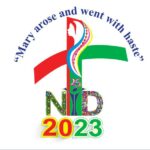 450 young Christians from different parts of Bangladesh, representatives of the 8 Dioceses present in the country, gathered for 4 days in Khulna, in the South, to witness and celebrate their faith, in a constructive and formative context.
Here's what Jerin, Asha, Seema, Shilpa, Lima and Orpita experienced, 6 girls from our St. Ann's Girls' Hostel in Mymensigh. For them the first time outside their region, the first time in Khulna, the first time on a boat… The first time they see so many young people all together!
We, Missionaries of the Immaculate – PIME, have been present here in the city of Mymensingh for a year and a half for the management of a hostel with about 60 girls and for help in local and missionary pastoral care. The community is composed of three sisters: one Italian and two Bangladeshis. We are inserted in an area with a predominantly ethnic mandi / garo, a matriarchal group now become for the most part Christian.
The National Youth Day in Bangladesh is organized every year in a different Diocese, and it can be described as a great festival, with opportunities for formation, mutual knowledge, but also leisure and fun. Each Diocese participates with a group of 40-45 young people, who then have the task of returning to their Parishes and Dioceses and sharing what they have experienced with all the other youth.
And it is with this spirit that our six girls have also prepared their selves for the big event, anxious to see and learn many new things!
The strongest message brought home by this seminar, as well as the beauty of knowing different cultures (there are at least 25 ethnic groups present today in Bangladesh) and being together as Christians (in a country with more than 90% of inhabitants of Islamic religion), is the one relaunched in Pope Francis's Encyclical LAUDATO SI. In these four days the youth were engaged in moments of 'prayer in nature', excursions to Sundarbans ((the largest Mangrove Forest in the world), and concretely in planting new trees and flowers.
Hence the renewed enthusiasm to be Christians committed to the protection of Creation and Nature, not to waste water (a primary and not always obvious good), to reuse what we have and not to throw it easily away. And if to reiterate this lesson are six teenage girls … These words sound even louder! Thank you, Khulna!
Sr. Lorenza Radini, Bangladesh Province