The two days of celebration of my missionary mandate which was held in my home parish Kurada on July 11th 2021 in the diocese of Alotau was something amazing. It was programmed and well planned out by my family along with our parish priest Fr. Basil Dekeuya involving the whole parish of Kurada with the four sub stations. It was held both in traditional as well as in spiritual way to balance the celebration and give meaning in two ways. To see the richness of my culture that I have left behind and inserted myself in the work of God in offering my whole self totally to serve the people of God in my mission country Bangladesh.
Prior to the celebration there was welcoming of all the invited guests, our sisters and candidates who came from different parts of PNG with a rhythmic dances in their traditional attire. Previous day of celebration was dedicated for offering of food and pigs from my family accompanied by traditional dances and beatings of kundu drums. The food and pigs were offered up on a big shelf which was made purposely for the (soi) meaning to acknowledge different people.  That shows how my family treasure or appreciate certain people who contributed in my journey of life as well as those who in one way or another contributed to make this day a successful one.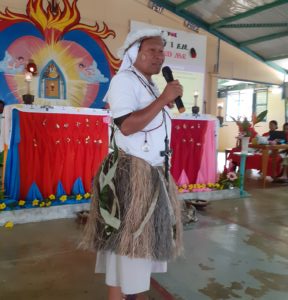 The Holy Eucharist began at 11:30 presided over by Fr Thomas Losema along with other priests and deacon. The liturgical songs were prepared well and sang in a melodious way and many people participated in the Eucharistic celebration, involving the united church and other Pentecostal denominations.
During the mass I was very much inspired and encouraged by the homily in which the preacher emphasized three key words: sent, commitment and suffering. Because I am sent, all what I do in the mission whether big or small I must do it with commitment and the mission offers lots of suffering. In order to follow Christ I suffer or die to myself leaving behind my comfort zones to serve the Lord.
After the Eucharistic celebration and lunch Soi took place, where I called the people's names and distributed whole pigs and baskets of yams to the guests and acknowledged them. In the evening there was a dinner provided by my family to all the people who came to participate in the celebration. After the dinner, there was a presentation of gifts in terms of  food, baskets, fruits and so on from different groups and families and it was accompanied by a meaningful songs, music, traditional dances and role play.
It was my turn to express my gratitude to all the people who took part in this celebration with words of encouragement to the youth and parents, adding on my experiences in Rome followed by the power point presentation.
By reflecting back at my mandate I feel it was a very big event that my family prepared for me, which was first of its kind, in order to bring unity among the families, the other denominations and as a whole of  Kurada parish working together and expressing their  joy and happiness of  many parents to offer their children to serve the Lord.
My family did this celebration to set an example to every family that I'm not along journeying on in my missionary vocation but my family is there as my backbone supporting me in both spiritual and physical needs. It was specially done to my parish to promote more vocations to priesthood and consecrated life.
I was so much inspired and encouraged by the effort, the hard work, the joy and happiness of my family and the people who made me proud to be who I am now. It gave me more courage and confidence to trust in God and go forward without fear of serving the Lord and doing the will of God that He has entrusted to me.
I entrust my whole self to God and through the intercession of the Immaculate Mother my Model and Guide desire to live up to my CALL as humble servant. I pray and entrust to God the process of my visa for Bangladesh that in His own ways and plans may make things possible.
Sr. Elsie Isikeli, PNG