The year 2020 marks a significant milestone in the history of our mission in PNG. It was a great joy for me to witness this remarkable event which was the erection of our tiny delegation into a new province as it took thirty two years to grow this far. I remember well, in 2018 during our tenth General chapter the erection of our new province was approved. I was in my mission in Cameroon when the announcement was made that day by our Superior. Imagine how I felt that moment; my heart was thrilling with joy and a sense of gratitude to God. My sisters looked at me with smiles on their faces and some of them remarked that finally PNG will become a Province. My response was "Thank You God" after thirty years of our presence in PNG you brought us this abundant joy and blessings. Nevertheless, I never thought that I would be physically present to witness this great event.
When I was in Chad in November, 2019 one of our ex PNG missionary in Rome heard that I was coming to PNG for my home visit so she told that since you are going home, this could be a wonderful moment for you to participate. I kindly replied that I would like to be present however; my return ticket is in February so it will not be possible for me yet deep within me I was longing to witness this moment. After my vacation with my family, I returned to POM in February and remained there because of medical reasons thus my return flight to Cameroon was postponed.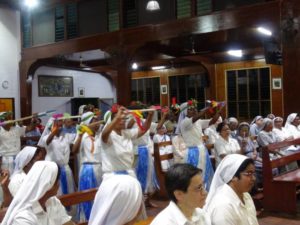 Prior to the celebration our sisters and postulants Martha Appa and Maggie Gamu in POM community were very busy preparing for that day. Each one contributed tirelessly despite the amount of work they were doing. Besides in the evenings there were choir and dance practices along with our boarding girls. Every day as I was seeing my sisters and postulants working, I felt sorry for them nonetheless due to my health condition I could not help but my sisters were so sympathetic with me which I really felt. After a week we welcomed all our sisters who arrived from their various communities as well as the arrival of our Mother General Sr. Antonella and Sr. Biji the general councillor, brought us deep joy. It was really exciting to see all our sisters coming together as I could notice the exchange of joy in each one of them. It was also a time of great happiness, sharing and togetherness as an unique MSI family in this mission land.
The most delightful moment was on the 8th of March which was the erection of the province. During the Morning Prayer and the Eucharistic celebration, in the silence of my heart I was praising and thanking the Almighty Father for the wonders he has done for our delegation for the past thirty two years. As one of the local sisters arriving from my mission Chad I was privileged to participate along with all my sisters. I was overwhelmed with tears of joy. Likewise I had the chance to meet all our sisters who are currently working in this mission both expatriates and locals.
I felt deep within me the sentiments of joy and gratitude to God our Creator for the gift of our two Pioneer Sisters; Elizabeth and Silvana who sowed with joy that seed of our Charism and spirituality on the soil of Watuluma. For their enthusiastic and tireless service in reaching out to the people with courage, despite many obstacles and challenges they encountered in life.
The Lord who brought them to this mission land has never forsaken them. As he said in (Mathew 28: 20), "I am with you always till the end of time". He was always their constant companion in whom they drew strength and courage to continue their mission which has become our mission today thus this tiny seed has grown and bloomed in other provinces because of their laborious effort.
Moreover, I remember many of our sisters who had contributed to the expansion of our mission and today are no longer with us and our benefactors Mr. Lino Casali and late Mr. Luigi Cantoni and many others for their great support in many ways. Besides I was thankful to God for Bishop Cesare Bonivento who from the beginning of our mission was a great help to our pioneer sisters and other sisters he was always like a big brother and a father to us all. As I remember well in Vanimo during my formative years how he was helping us morally, spiritually and materially. Their great contribution helped us in the expansion of our mission in this land of PNG. May they continue to experience the boundless love and blessings of God wherever they are and may he grant eternal rest to all those whom he has called from this earthly life. I also thought of our PNG sisters who are currently abroad in their mission who could have been present nevertheless they were with us in thoughts and prayers. They expressed to me that you are so privileged to witness this event while we cannot because of the distance.
To conclude, I wish to acknowledge the tireless efforts of each one of you my dear sisters who are currently living and serving our people in your various ministries. Thank you for your witness of life despite the moments of challenges you encountered in your apostolate. As our mission in PNG steps into its new chapter of life is a province; I pray that the Lord may shepherd you all in your mission so that the future generation will reap with joy the fruit of your labour. Wish you all a Fruitful mission and may Mary our Mother the star of the sea be your guiding star as you continue your journey because you do not know what the future holds for you.
On that wonderful day we all sang together with Mother Mary our Magnificat: May this song of gratitude continues to echo in our hearts. Above all I enjoyed that day and was grateful to God for giving me this opportunity to be with you all my sisters in celebrating this history of our province.
May God Bless you all! Dio vi benedica! Dieu vous benisse! Thank you! Tenkyu Tru! Grazie mille! Merci beaucoup!
Sr. Irene Kuam-  Papua Nuova Guinea/Camerun