Truly I tell you, whatever you did for one of the least of these brothers and sisters of mine, you did for me. (Mathew 25:40).
On May 19, with the Sunday school children and parents of Tin Shui Wai parish, Hong Kong gathered together to collaborate with Evangelical Lutheran Church Social Service center to help the poor and the needy.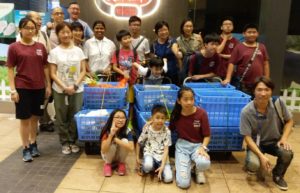 It's a new and a wonderful experience for me to render service from the market. Sunday afternoon, at 6 pm the leader instructed us, how to do this service. We went to the wet market and asked the vendors to offer us the vegetables and fruits which are not sold out. The response of the vendors is very positive, though a few of them looked at us with frowned eyes. We thanked them politely and then moved to the shops one after another. We went in two shifts so that towards the end of the day all that is not sold out was offered to us instead of wasting them. After collecting 4 baskets of vegetables and fruits from the market, we walked back to the center with great satisfaction and distributed to the elderly who are poor and living alone in their flats. It was a remarkable experience to reach out to the needy in a simple, but effective way.
Sr. Sophia Rani – Hong Kong-Cina